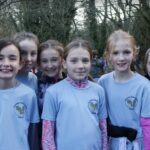 On Wednesday the 4th of December, students from 3rd to 6th class competed in a Primary Schools' Cross Country Race in St Anne's Park. Following a good warm up session, students ran their fastest and many came within the top 20 runners in their age category. Two members of fourth class came home with awards: a fifth place and a first place trophy.
It was a good experience for 3rd class, as it was their first time at a cross country race, and it was an enjoyable day for all classes. Hopefully classes will keep improving in the cross country in the future!
Thank you to Mrs. Cahill, Mrs. Hogan, Ms. Lodola and Mr. Vincent for bringing us to the cross country.
Alex
Thank you also to all the parents who came along to cheer our Springdalers on and thank you to our photographers, especially Finn who really showed he had a hidden talent!
There were so many super photos to choose from that I couldn't make my mind up so I have included quite a lot.
Ms. Cahill