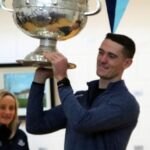 Springdalers had a very busy day on Tuesday.
Early in the day we were extremely lucky to be joined by author, Ger Siggins. 4th to 6th Class were entertained by his stories of growing up next to Lansdowne Road and were interested to learn how he was inspired to become a writer.
We were treated to a reading from one of his novels, Rugby Spirit, which left a number of children eager to read on.
Many thanks to Ger for taking time out to visit us. You never know, he may have inspired one or two to follow in his footsteps!
As Ger left Springdale we welcomed our second visitors of the day, the Sam Maguire brought along by Brian Fenton. The hall, filled with pupils from Junior Infants to Sixth Class, erupted as Brian proudly raised the Sam Maguire. After photos and jersey signing he left through the busy playground, but not before he demonstrated his skipping skills!
Many thanks to Brian Fenton for including us in the celebrations- Up the Dubs!