Springdale National School Relationships and Sexuality Education Policy
Introductory Statement
The staff of Springdale N.S. reviewed this policy in May 2019 following a review of our SPHE Programme using 'A Guide to Child Protection and Safeguarding Inspections'. It was circulated to members of the PTA and ratified by the BoM.
Rationale
Springdale N.S. values the uniqueness of all individuals within a caring school community. We provide a safe, caring school environment where every child is cherished and helped to achieve their maximum potential intellectually, spiritually, physically and emotionally. The Relationships and Sexuality (RSE) programme will be implemented within this framework.
Definition of RSE
RSE aims to provide opportunities for children to learn about relationships and sexuality in ways that help them think and act in a moral, caring and responsible way. This work will be based on developing a good image, promoting respect for themselves and others, and providing them with appropriate information.
RSE in the context of our SPHE programme
As outlined in our SPHE Policy, SPHE is spiral in nature and the content at each level throughout the school is covered over a two-year period (See Appendix 1). RSE is a mandatory component of the SPHE curriculum and consequently the sensitive lessons must be taught. The sensitive objectives of the RSE programme fall within the 'Taking care of my body' and 'Growing and changing' strand units.
In Making the Links https://pdst.ie/sites/default/files/Making%20the%20Links%20(revised%202017).compressed_1.pdf, the sensitive objectives are grouped within these strand units across all class levels with the relevant lessons listed from the RSE programme manuals and the Walk Tall programme manuals. The teacher is best placed to deliver these lessons as part of the broader RSE and SPHE curriculum. They should not be taught separately but with the content of the broader strand unit.
As part of two-year SPHE planning, the sensitive objectives in RSE are usually taught in the opposite year to Safety and Protection and the Stay Safe programme. However, the sensitive topics from the 'Growing and changing' strand unit will be taught each year in 4th and 6th Class.
The RSE programme, however, also covers strands, strand units and objectives across the curriculum encompassing other areas of SPHE.
Aims of our RSE programme
To enhance the personal development, self-esteem and well-being of each child.
To help children develop healthy friendships and relationships.
To foster an understanding of, and a healthy attitude to, human sexuality and relationships in a moral, spiritual and social framework.
To enable the older child to acquire an understanding of, and respect for, human love, sexual intercourse and reproduction.
To develop and promote in the child a sense of wonder and awe at the process of birth and new life.
To enable the child to be comfortable with the sexuality of oneself and others while growing and developing.
Broad Objectives of the RSE programme
The RSE programme should enable the child:
To acquire and develop knowledge and understanding of self.
To develop a positive sense of self-awareness, self-esteem and self-worth.
To develop an appreciation of the dignity, uniqueness and well-being of others.
To understand the nature, growth and development of relationships within families, in friendships and in wider contexts.
To develop an awareness of differing family patterns.
To come to value family life and appreciate the responsibilities of parenthood.
To develop strategies to make decisions, solve problems and implement actions in various personal, social and health contexts.
To become aware of the variety of ways in which individuals grow and change, and to understand that their developing sexuality is an important aspect of self-identity.
To develop personal skills which will help them to establish and sustain healthy personal relationships.
To develop some coping strategies to protect themselves and others from various forms of abuse.
To acquire and improve skills of communication and social interaction.
To acquire and use an appropriate vocabulary to discuss feelings, sexuality, growth and development.
To develop in the child a critical understanding of external influences on lifestyles and decision making.
Overview of content
Teachers will use 'Making the Links and Beyond, Revised Edition, Dublin, 2017', to choose strand units in such a way that the child will receive a comprehensive programme in RSE every second year (See Appendix 1). An overview of the sensitive content objectives of the RSE Programme is included in Appendix 2.
We host an RSE evening annually for 6th Class children and their parents. During the evening the pupils watch the Busy Bodies RSE DVD with their parents. The content of the Busy Bodies programme is designed specifically for this age group. Parents are made aware of the content in advance and are asked for their consent in writing in order for their children to participate.
Approaches and Methodologies
When implementing the programme, staff at Springdale National School will endeavor to display respect for and sensitivity towards the different cultural and family backgrounds experienced by the children.  The curriculum will be taught in an age-appropriate manner at all times.
The RSE curriculum will be taught through:
stories and poems
classroom discussion
group work
games
art activities
reflection
circle time
Children with Different Needs:
Teachers will endeavour to adapt and modify activities and methodologies in RSE to encourage participation by children with special needs. Information is available on the NCSE website and other useful resouces can be accessed online by teachers, e.g., Healthy Bodies (Vanderbilt Kennedy Center). The special education teachers will supplement the work of the class teachers where necessary. Individual children's identified needs willl be noted in their Continuum of Support documents.
Guidelines for the management and organisation of RSE in Springdale NS:
Parental Involvement:
We recognise that parents are the primary educators of their children and that the home is the natural environment in which RSE should take place. The role of the school, therefore, is seen as one of support for the work of the home in this area.
Parents will be informed that the school fully implements the RSE strands of the SPHE programme, including sensitive aspects of the programme at enrolment.
Parents will be informed in advance of lessons on the sensitive areas of the RSE programme, with a letter relevant to what will be taught at their child's class level (see Appendix 3).This will give parents an opportunity to meet with relevant class teachers if they so wish, to discuss or clarify what is covered. It also gives parents an opportunity to become involved, to inform themselves of the programme content and to prepare children for the information they will acquire around the sensitive areas and discuss areas covered in RSE/SPHE.
The approach in school is child-centred and will always take the age and stage of development of the children into account. Appropriate vocabulary relating to sexuality, growing up, physical changes, parts of the body and feelings will be used. Respectful and anatomically correct language will be used and encouraged throughout (see Appendix 2 for overview of sensitive content objectives of the RSE Programme, including appropriate language for each class band).
A question box may be used where appropriate. Questions arising from lesson content will be answered in an age-appropriate manner. The class teacher cannot answer questions which do not relate to the particular curriculum objectives for a class. Pupils will be informed if a question/issue is not on the programme and they will be advised to talk with their parents.
Teachers may exercise discretion to contact parents themselves if they feel that a question is very inappropriate.
It is our policy not to answer personal questions and to discourage disclosure of personal or family information.
Our RSE programme is inclusive. Should a parent have a query about the content of the RSE programme, he/she should be encouraged to meet with the class teacher to discuss same.
Confidentiality
Where there is disclosure by a child of abuse, or a teacher has any concerns about a child, the school personnel will follow our Child Protection Procedures 2017. Lesley Cahill is our Designated
Liaison Person and Kate Hogan is the Deputy Designated Liaison Person.
Implementation
Roles and Responsibilities:
The Board of Management of Springdale NS supports the implementation of the RSE programme. We recognise that our school has a supportive role to that of the home and we have a commitment to ensuring that:
Our teachers have access to in-career development opportunities.
Relevant teaching materials are provided.
Timeframe:
This plan will be reviewed in October 2021
Ratification and Communication
The Board of Management of Springdale NS ratified this plan on _______________
Signed _________________________
Date ___________________________
This plan is available on our school website and to view at the school by the parents on request.
Appendix 1:
Overview of Content for SPHE Programme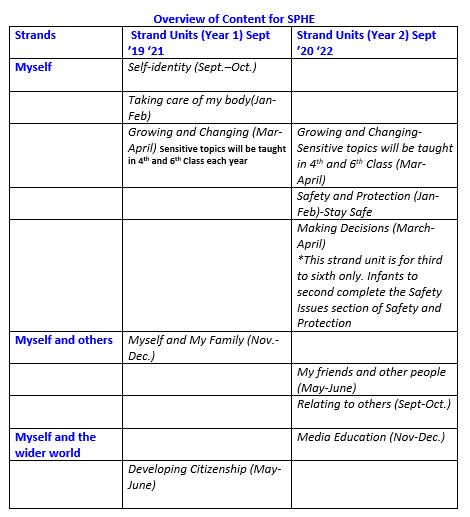 Appendix 2:
Overview of RSE Sensitive Content Objectives