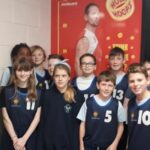 On Thursday 21st of November, members of 4th, 5th and 6th class participated in a schools' basketball tournament in the National Basketball Arena in Tallaght. It was an enjoyable day and there was a great atmosphere.
All of the teams were quite friendly and, as it was only a non-competitive tournament, it was a great chance to practise 3 v 3's with new people and also a good opportunity to learn new basketball skills.
We played 10-minute matches with substitutes at half time. When the players were off the court, each member of the team also had the chance to keep the score and act as referee. All the teams did very well on the day so we are planning to participate in a more competitive tournament later in the school year. This was a great start! Thank you to Ms Cahill and Ms Crawte for bringing us.
By Alex