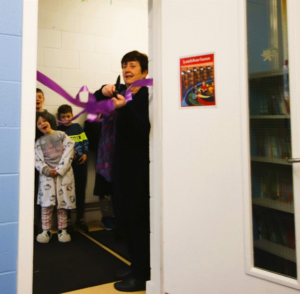 On Friday, 3rd March , we celebrated the opening of our new library space.
We began with a whole school assembly where we were joined by Revd. Lesley Robinson and Ms. Stella Downes. The students' Council entertained us with a poem about reading and a quiz based on well known characters. Revd. Lesley Robinson led us in prayer and blessed our new library.
Following a lively rendition, in true Springdale style, of 'The Bare Necessities', we had a very exciting countdown to the cutting of the library door ribbon by Ms. Stella Downes.
Thank you to the Students' Council and Ms. Lenehan for all their hard work and to Ms. Stella Downes and Ms. Lesley Robinson for joining us. This was truly a day to remember
We look forward to many years of reading in the wonderful surroundings of our new library!
Our short video below captures some great moments from the day: