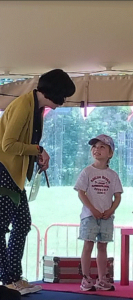 Over the past week every class, from JI – 6th, headed into town by DART to participate in the International Literature Festival in Merrion Square. They shopped for impossible ice cream with Shane Hegarty, picked their own story with Sarah Coyle, found Blackbeard's treasure with Iszi Lawrence and came face to face with two terrible vikings with Francesca Simon.
Thank you to all involved in organising this wonderful event and to the authors who have undoubtedly inspired a few budding writers.
Many lovely memories were made during this very special week of fun in the park!
We managed to capture some of the fun in our video : https://youtu.be/PWkhVsmaJXY