Last Wednesday and Thursday Springdale became a theatre for the evening. There were lots of great costumes and actors and actresses on show. The pupils from 2nd to 6th class had been working so hard in the 3 weeks leading up to it. Songs had been practised numerous times, lines had been learnt for homework and Ms. Crawte in the office had been busy making birds' heads and rats' ears! A huge thank you to Mr. Vincent and the Kirk men who worked hard putting up the stage and making sure all the equipment needed was working. Ms. Fallows also deserves a special mention for all her musical talent behind the scenes.
The wonderful evening started with Ms. Morrow's and Ms. Jackson's classes putting on a fantastic production of The Pied Piper. Everyone played their part to produce a fantastic performance with show stopping music and dancing.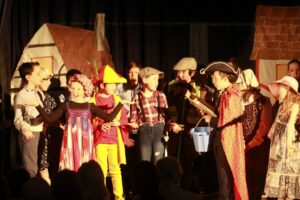 That was followed by a Rock 'n Roll extravaganza by the pupils of Mr. McCullagh's and Ms. Stirling's classes. A fabulous rendition of Sweet Child of Mine by Guns 'n Roses capped off an evening of blockbuster entertainment.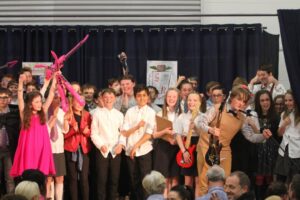 Huge thanks to all who attended and supported during the 2 evenings. All money raised went towards Crumlin Children's hospital and Springdale NS.