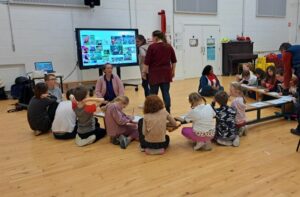 On Wednesday, 19th October, we welcomed representatives from Dublin City Council to take part in a discussion group around the development of the Santry River, especially in the Raheny area.
Members from our Green Schools Committee had an opportunity to discuss the problems they see and the concerns they have around the river being a good and valued local amenity. They also discussed what their dreams for the river area would be and what they think is needed in the local community. The children had some great ideas and surprised the visitors with their knowledge of biodiversity and environmental awareness.
We look forward to welcoming Dublin City Council back again to further develop some of the children's ideas.