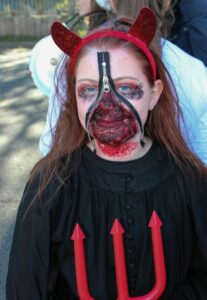 The sun was shining in Springdale on Saturday when the yard was taken over by a gathering of very strange creatures from floating jellyfish to chattering Oreos!
Thank you to everyone who joined us on our annual Halloween walk. I would especially like to thank the PTA for providing refreshments and keeping everyone safe on the walk.
Many thanks also to our judges, Jenny and Paul Colbert. They had a difficult task in choosing the best costumes as everyone had made a great effort in dressing up. Well done to Finlay, Oisín, Lily, Fiona, Conor, Lara, Chloe, Siún and Abby who won prizes on the day.
A final thank you goes to Deryck Vincent and Nicola Edwards who were our photographers and managed to capture the fun and excitement of the walk.