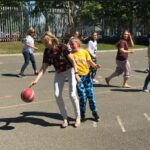 Huge congratulations to our 6th Class students who defeated the staff in an end of year basketball match by a score of 8-6.
The staff jumped out to an early lead on a basket by Ms Cahill and continued to build on this as they reached 6-2 with good passing and aggressive play.
However, with only a minute left to play, the students pressed the staff. Baskets by Jamie, Eve and Ailbhe gave the students the lead with only seconds left as the staff just ran out of steam against the much fitter students.
Well done to all who played.
Report by the 6th Class Coach!