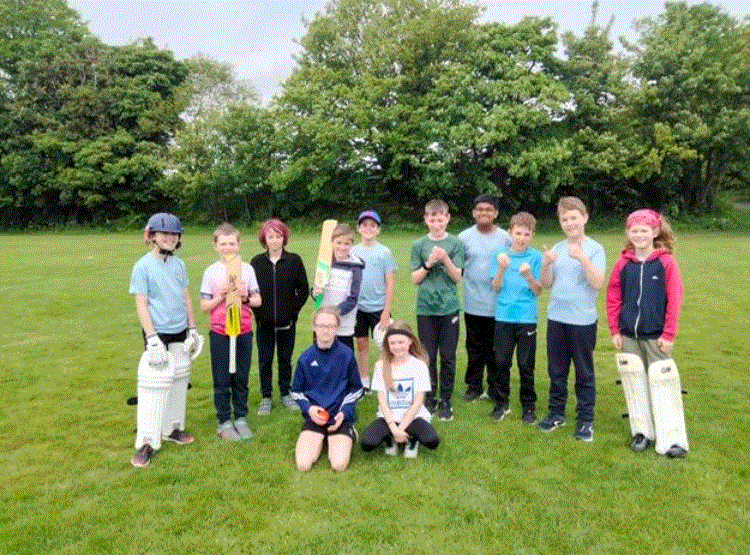 Ahead of Active Week, the cricketers of Springdale took to the field for the first time since 2019 when they played Howth Road NS on Wednesday.  Captain Conor C opted to bowl when he won the toss and very soon the team had something to celebrate when Eden took the first wicket. This was the start of an exceptional bowling performance from a very young and inexperienced side, all of whom were playing the first "hard ball" game.
There was excellent bowling from Sam, Lily, Abigail and Luke C, while energic fielding by Conor Mc, Elouan, and Hughie made sure that the opposition runs were kept to a minimum. Special mention also to Noah who was top class as wicketkeeper.  Chasing a total of 140, Hannah and Cael began our reply against a couple of very good and fast bowlers, getting us off to a good start. The good work continued throughout the innings with runs coming from Conor C and Sam in particular, some of which would not be bettered on Sky Sports.
We entered the final phase of the game a single run behind Howth Road before a late wicket meant the victory went to the opposition.  However, it was a very encouraging performance from a young side whose performance, attitude, enthusiasm and sportsmanship were a credit to the school.
A few thank yous are necessary: to Mount Temple for use of their grounds, also to Clontarf Cricket Club who provided gear and training facilities for the team in advance. Fintan McAllister is the DCC sports officer who organises these games and his good nature makes him a pleasure to deal with. Finally thank you also to former pupil and current Cricket Ireland Super 3 player, Christina Coulter Reilly, who came along to umpire and pass on her expertise to the team on the day.
By Deryck Vincent
Thanks also to Mr. Vincent who organised our cricketers and made sure they were all set for match day!