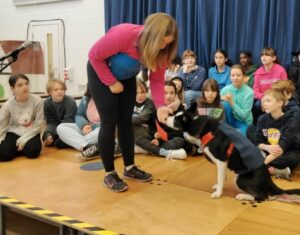 As part of the Burns By Your Side Initiative, Scout, a border collie, has begun visiting our school on Fridays. Scout loves to hear stories and a few lucky Springdalers will have the opportunity to read him some of their favourite stories on Friday mornings.
Accompanied by his owner, Georgia, a past Springdaler, Scout came to assembly this morning and wowed us with his amazing tricks! Believe it or not, he is even able to choose his preferred book!
We look forward to hearing how Scout gets on over the next few weeks.
Many thanks to the Burns By Your Side organisation for providing our school with this wonderful opportunity!