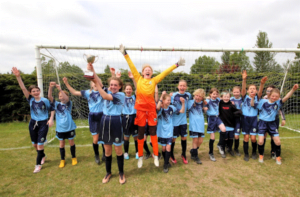 What an end to our first complete football season since 2020!
Our 4th, 5th & 6th Class girls ended this year's football season in style, winning the City League, Division 2 Final in AUL on Wednesday 7th June.
Their opposition, Gaelscoil Sliabh Rua, scored an early goal to take the lead. However, their lead was short lived when Faith scored an equaliser from a free kick. The battle continued when Sliabh Rua scored another goal to take the lead for a second time. With determination and hard work, Springdale managed to equalise much to their supporters' delight. By the final whistle, the score remained 2-2 which meant the girls had to head into extra time.
Already exhausted, they kept up the pressure. Despite a number of chances, neither team managed to score during extra time which meant the girls had no option but to head into a penalty shoot out. I'm not sure who was more nervous- the spectators or the players!
Springdale took a 2-0 lead in the shoot out but Sliabh Rua soon brought this to a 2-2 draw. As Lily stepped up for Springdale's final penalty spectators held their breath. With the confidence of a pro, she scored!. It was all down to Kayleigh to save the final goal to make us the champions and yes, she did it!
Well done to the girls on such a fantastic season. They certainly gave the whole school community something to look forward to as they waited to hear how they got on in each match. Thanks to the supporters who came along to cheer them on, to Mr. Vincent who captured the great memories on camera and to the staff who made sure that they all arrived safely to each match!
Most of all, thanks to Mark, who coached them from the start of their journey and gave them the encouragement to believe in themselves as the champions they became!
Such Celebrations!
https://photos.app.goo.gl/T5QBTDNULJcqYoam8