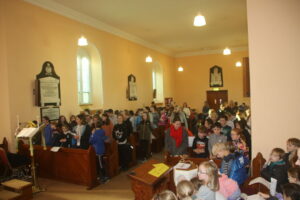 1st to 6th Class were delighted to visit St. John's Church, Coolock, on Friday. Thank you to Reverend Kevin for leading our service to mark the start of the new school year.
It was the first time many pupils and staff had been to St. John's. Our singing sounded even more amazing than usual in this beautiful church.
Thank you to Joanne for welcoming us, to Douglas for preparing a lesson on the church and to our photographer, April, for taking such super photos- you can see her handiwork in our video below!